EXCLUSIVELY AVAILABLE BY AKTINA!
PURCHASE TODAY THE YANNIS KOTSIRAS NEW HIT ALBUM "PSEFTIS KEROS" SIGNED BY THE ARTIST
CALL US AT 718-545-1151 - LIMITED NUMBER AVAILABLE!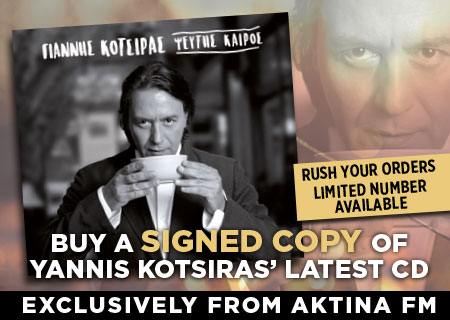 In late November of 2016 Yannis Kotsiras released his hit new album, "Pseftis Keros", a versatile work featuring 14 beautiful songs by various distinguished Greek composers and songwriters. In this album, Kotsiras also displays his own unique talent as a composer/lyricist with the song "Tha' Μe Konta Sou" (I Will Stay By Your Side).
"Pseftis Keros" can be yours today! Call AKTINA at 78-545-1151 to purchase a signed copy of this new album, a must in everyone's music collection. Below you can enjoy two songs from "Pseftis Keros".
"THA' ME KONTA SOU" (I WILL STAY BY YOUR SIDE) "STA IDIA DIHTIA" (IN THE SAME NETS)