GREEK MUSIC JOURNEY 2017

PURCHASE TICKETS FOR AKTINA'S NEW CONCERT FEATURING

GREEK RENOWNED STAR YANNIS KOTSIRAS AND HIS BAND

FRIDAY, APRIL 21, 2017 AT 8:30PM

THE KAY PLAYHOUSE AT HUNTER COLLEGE
E. 68TH ST., BETWEEN PARK & LEXINGTON AVES, NYC 10065

CUSTOMERS WHO PURCHASED TICKETS ALSO BOUGHT A SIGNED COPY OF THE YANNIS KOTSIRAS
LATEST HIT ALBUM "PSEFTIS KEROS" EXCLUSIVELY AVAILABLE AT AKTINA FOR DETAILS CLICK HERE
How To Purchase Tickets

By Web
All online ticket price levels which are currently available are listed below. Please enter the number of tickets you wish to purchase in any of the designated price boxes, and then click on the ADD TO CART button to proceed and process your order online. All prices listed below for online purchases already include a $4.50 per ticket handling/processing fee and no other fees will be charged to your order. Your online transaction fully verifies and guarantees your reservation for the number of tickets you have purchased. Please print or display on your phone your Receipt and present it to the event at "Will Call" to receive your reserved tickets with your assigned seats based on your purchase level. If you require additional information how to purchase tickets online or to purchase ADA Seating, please call us at 718-545-1151 or email us, This email address is being protected from spambots. You need JavaScript enabled to view it.. Ticket purchase transactions are processed through a secured site. See Seating Chart.
You can always view/review your Shopping Cart by clicking on the icon below. Furthermore, you may add or delete items in your Shopping Cart before you proceed to Check Out by following the relative instructions in the Shopping Cart window. Please fully review your order before you proceed to check out and before it is fully processed. No changes can be made once your order is fully processed and complete. All sales are final. No refunds/exchanges. Please see Refund/Exchange Policy below.



CENTER ORCHESTRA - SOLD OUT NO MORE TICKETS AVAILABLE

PRICE: $84.50 ORCHESTRA LEFT & RIGHT - All fees included


PRICE $74.50 - BALCONY - All fees included

REAR BALCONY PRICE $40.00 - ONLY 2 TICKETS LEFT AND CAN ONLY BE PURCHASED BY PHONE. A $5 cc surcharge/processing fee applies for every ticket purchase
For all orders processed 24 hours prior to the event, the seating will be assigned at "Will Call", on a first come, first serve, based on your purchase level. For more information, please call us at 718-545-1151 or email us, This email address is being protected from spambots. You need JavaScript enabled to view it..
By Phone
718-545-1151

PRICES: $95 Orchestra Center SOLD OUT | $80 Orchestra Left & Right | $70 Balcony | $40 Rear Balcony - ONLY 2 Tickets left | $75 ADA Seating

A non-refundable $5.00 surcharge/processsing fee applies for every ticket purchase.
Refund/Exchange Policy:
All sales are final. No refunds or exchanges, unless the ticketed performance is cancelled. Not responsible for lost or stolen Purchase Receipts, or tickets.
Purchase Today A Signed Copy of "Pseftis Keros"
To purchase a signed copy of the Yannis Kotsiras latest hit album "Pseftis Keros", please call AKTINA at 718-545-1151. Limited number available, call now! To enjoy songs from "Pseftis Keros" click here.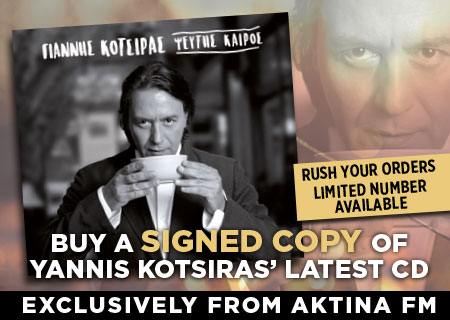 Donate
To make a tax-deductible contribution, please enter the amount in the box below and then click on the Donate button to process your donation. All donations are processed through a secured site. All major credit cards accepted.
SIGN UP TO OUR This email address is being protected from spambots. You need JavaScript enabled to view it. TO RECEIVE NOTICES OF ALL OF OUR UPCOMING CONCERTS

We thank you for your support.