GREEK MUSIC JOURNEY 2020
FRIDAY, MAY 15, 2020 | 8:30PM
GREEK SINGING SENSATION
KOSTAS MAKEDONAS
ACCOMPANIED BY HIS BAND AND SINGER ELENI ANDREOU
BUY TICKETS ONLINE OR CHARGE BY PHONE 718-545-1151
PERFORMING AT THE KAYE PLAYHOUSE AT HUNTER COLLEGE
E. 68TH ST. BET. PARK & LEXIGTON AVES, NYC
SEE THE THEATER SEATING CHART HERE


ABOUT THE CONCERT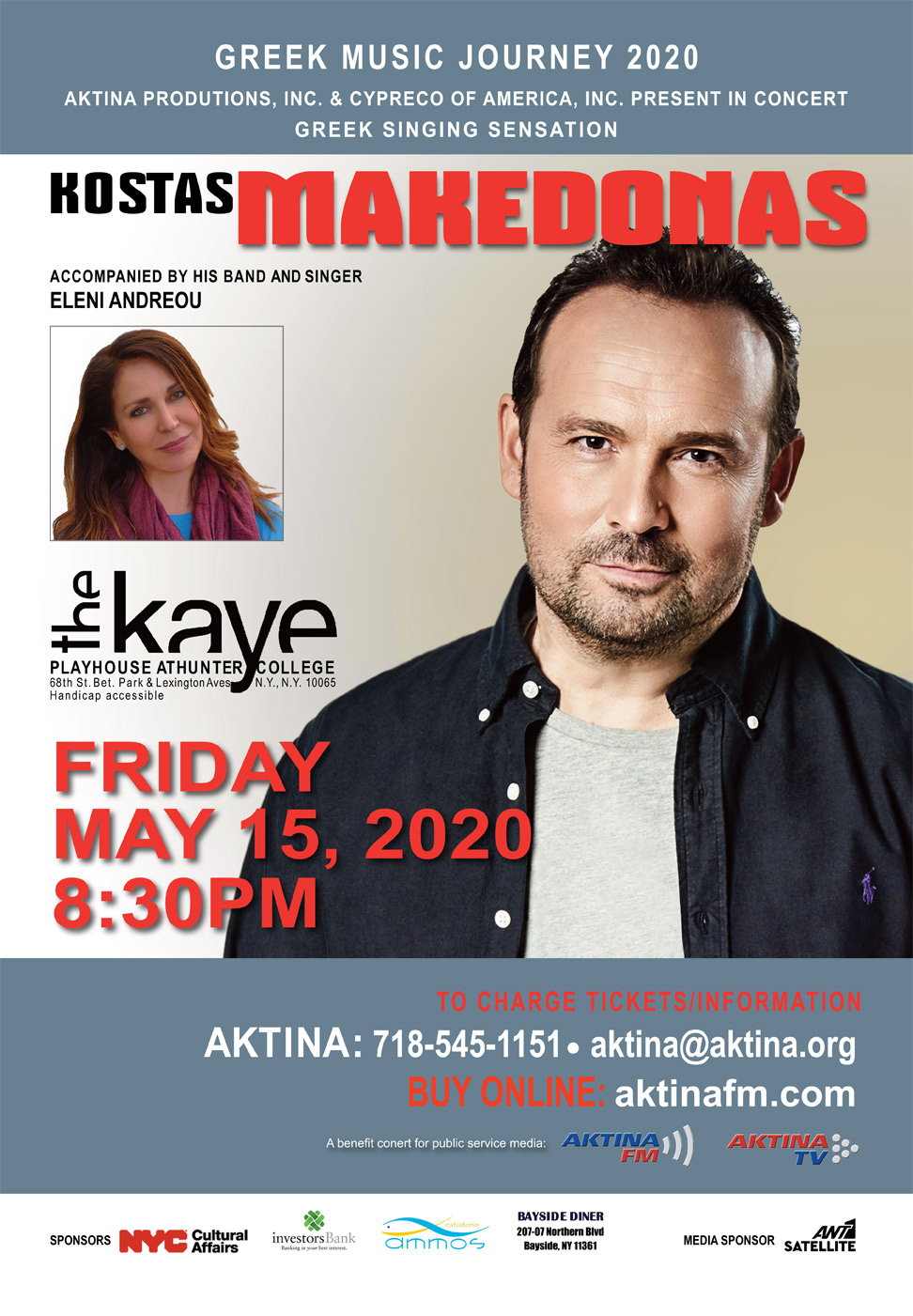 Greek Music Journey concert series brings back to New York, Greek singing sensation Kostas Makedonas accompanied by his 5-member band and the talented singer Eleni Andreou, in yet another amazing performance at Manhattan's landmark theater, The Kaye Playhouse at Hunter College on Friday, May 15, 2020 at 8:30pm.
Greek Music Journey 2020 with Kostas Makedonas is co-presented by the non-profit organizations, AKTINA Productions, Inc., and CYPRECO Of America, Inc., and it is given to benefit their public service media, AKTINA FM and AKTINA TV.
CLICK AND WATCH LATEST HIT MUSIC VIDEO OF MAKEDONAS
Kostas Makedonas, who made his debut personal performance in the U.S., for AKTINA's Greek Music Journey 2007 and captivated the audience, promises to lovers of Greek music, yet another mesmerizing performance that no should miss!
The 2 1/2 hour concert produced by Elena Maroulleti, will highlight everlasting hit songs from the rich discography of Makedonas comprised by over 15 personal albums released during his vibrant 30-year old vibrant career in collaboration with Greek leading composers including, Christos Nikolopoulos, Stamatis Kraounakis, Yiannis Markopoulos, Yiorgos Theofanous among others. The repertoire will also include beloved classics by prominent composers such as Mikis Theodorakis (Zorba The Greek), Stavros Kouyioumtzis and others, as well as laika (popular-folk) and rembetika (Greek blues) by the legends Vasilis Tsitsanis, Markos Vamvakaris, George Zambetas, among others.
Eleni Andreou, whose charismatic voice and talent during her long and active career within the Greek American community have earned her exceptional popularity and recognition, will add to this exceptional musical performance that promises to fully engage the audience from beginning to end.
PURCHASE YOUR TICKETS TODAY!

Prices: $95, $70 Orchestra | $60 Balcony | $40 Rear Balcony | $65 Wheelchair.
Charge your tickets today by calling us at 718-545-1151 or purchase online right here. A handling/processing fee applies for every ticket purchase. All sales are final. No exchanges/refunds. Tickets will not be sold at the theater box office and are only available through the organizers. For the Kaye Playhouse Seating Chart click here.
WARNING: It is strictly prohibited for any third party to reproduce, re-use or distribute any images, logos and photos posted on this website without the written consent and approval of AKTINA Productions, Inc., and of all other third parties whose photos, images or logos are featured. All rights reserved.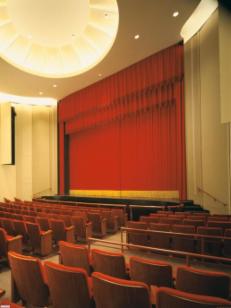 About the Kaye Playhouse: This landmark venue is one of the most cozy and beautiful theaters in Manhattan with exceptional acoustics and comfortable theatrical seating without any obstructions. Apart from the orchestra on the main level, the Kaye also features two balconies with a great view of the stage. Another unique factor of the Kaye is that it is easily accessible by all means of mass transportation.
Directions to the Kaye: By Car: The Kaye is located on the north side of East 68th Street, just west of Lexington Avenue. Parking garages are located nearby, while free street parking is also available on Lexington Avenue after 7pm. By Train: Take the "6" to the 68th Street/Hunter College station or the "F" to the 63rd Street/Lexington Avenue station. By Bus: Take the M98, M101, M102, M103 or the Crosstown M66 to East 68th Street and Lexington Avenue. The Kaye is handicap-accessible.

KOSTAS MAKEDONAS WILL BE HONORED
WITH "AKTINA's DISTINGUISHED ARTIST AWARD"
During the concert, Kostas Makedonas will be honored with "AKTINA's Distinguished Artist Award," in recognition of his participation in Greek Music Journey 2020 to benefit once again public service media, AKTINA FM and AKTINA TV and of his support to the ongoing cultural mission of AKTINA Productions, Inc., and of CYPRECO Of America, Inc., to preserve and to promote different aspects of the representative music of Greece for the benefit of Greek Americans and Americans alike and furthermore, in recognition of his exceptional contributions to Greek music during the course of his 30-year old vibrant career. Kostas Makedonas will be become the 5th recipient of this prestigious award which is exclusively presented to Greek Music Journey participating artists with many years of distinct contributions to Greek music.
Briefly about the artist
Kostas Makedonas, was born and raised in Thessaloni, Greece. His love for music was expressed very early on and at the age of 10 he started his first lessons on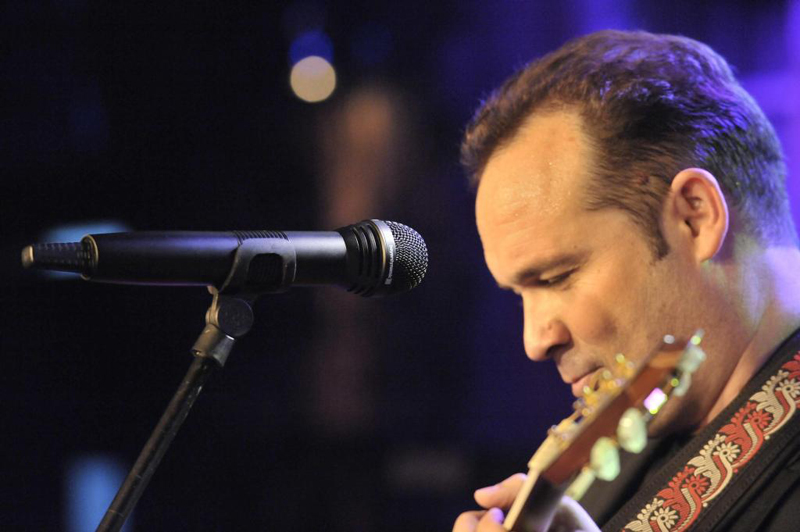 classical guitar. While in grammar and in high school, he was a leading performer in all school musical events and concerts. During his freshman year at the Political Science University of Thessaloniki, he also started singing at various city Boites. His talent did not go unnoticed when the renowned composer Stamatis Kraounakis heard him sing. In 1988, at the invitation of Kraounakis to go to Athens and share the stage with the legendary singers Vicky Mosholiou and Tania Tsanaklidou at the venue Taboo, Makedonas moved to the capital and a year later released his first personal album "Den Echo Idea," composed by Stamatis Kraounakis and based on lyrics by Lina Nikolakopoulou. The album became a great hit establishing Makedonas an instant young star within and outside of Greece. Since then he has released 15 other personal albums based on music and lyrics by prominent songwriters such as Christos Nikolopoulos, Yiannis Markopoulos, Yiorgos Zikas, Yiorgos Theofanous, Manos Eleftheriou among many others, while he has also participated as a "guest" in countless other recordings in collaboration with other Greek stars.
During the course of his long and vibrant career which spans three decades, Makedonas has successfully established himself among the most popular, highly recognized, respected and leading singers in the Greek music industry. His distinct and passionate voice, his ethos and his love for the representative music of Greece are some of the core factors which continue to keep him in the spotlight. More importantly, his unique ability to sing all Greek music genres such as, laika (popular-folk), rembetika (Greek blues), folk, demotic and contemporary, make him stand out as an exceptional artist. Makedonas is also an accomplished musician who also plays the guitar.
His impressive carrier is also crowned with exceptional personal live performances all around Greece and abroad. He has also worked, recorded and collaborated with the esteemed composers, Mikis Theodorakis, Thanos Mikroutsikos, with Greek stars such as Marinella, Alkistis Protopsalti, Manolis Mitsias, Dimitra Galani, Haris Alexiou among many others. Furthermore, he has participated in countless musical tributes given in Greece and abroad celebrating the life and songs of the laika and rembetika legends, Vasilis Tsitsanis (Cloudy Sunday), Stavros Kouyioumtzis, Apostolos Kaldaras, Mimis Plessas, to name just a few. In addition, annually he gives several concerts for philanthropic causes both in Greece and abroad.
In 2005 he was among other personalities from around the world who was honored at the Vatican for his many years of volunteering his talent as a musician/singer in philanthropic concerts and performances that promote good causes.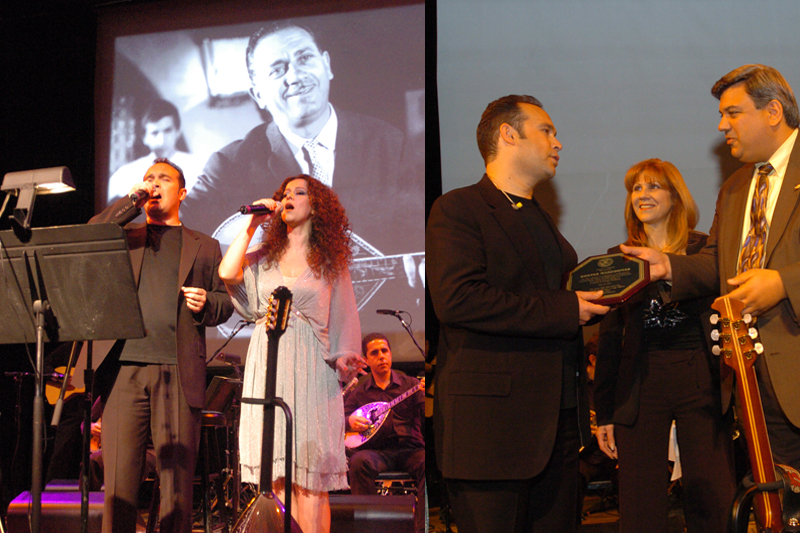 In 2007, at the invitation of AKTINA Productions, Inc., he made his debut personal performance in the U.S., for AKTINA's benefit concert GREEK MUSIC JOURNEY 2007-Tribute to George Zambetas. The captivating and sold-out concert was given at New York's historic theater, The Town Hall. For his participation in this benefit concert, he was honored by AHEPA on behalf of the Greek American community. AHEPA, is one the largest Greek American organizations in the U.S.A.
In 2013 he starred in one of the most successful musicals of the last decades entitled, "Pios Ti Zoi Mou" (Who For My Life) which was dedicated to the life, music and songs of Mikis Theodorakis.
Photo from AKTINA's GMJ 2007 "Tribute to George Zambetas"
Apart from his aritstic abilities as an accomplished singer, Makedonas is also a professional freelance pilot who flies Airbus A320/A321 planes.
The upcoming concert of Kostas Makedonas on May 15, 2020 is not to be missed!
Briefly about artist Eleni Andreou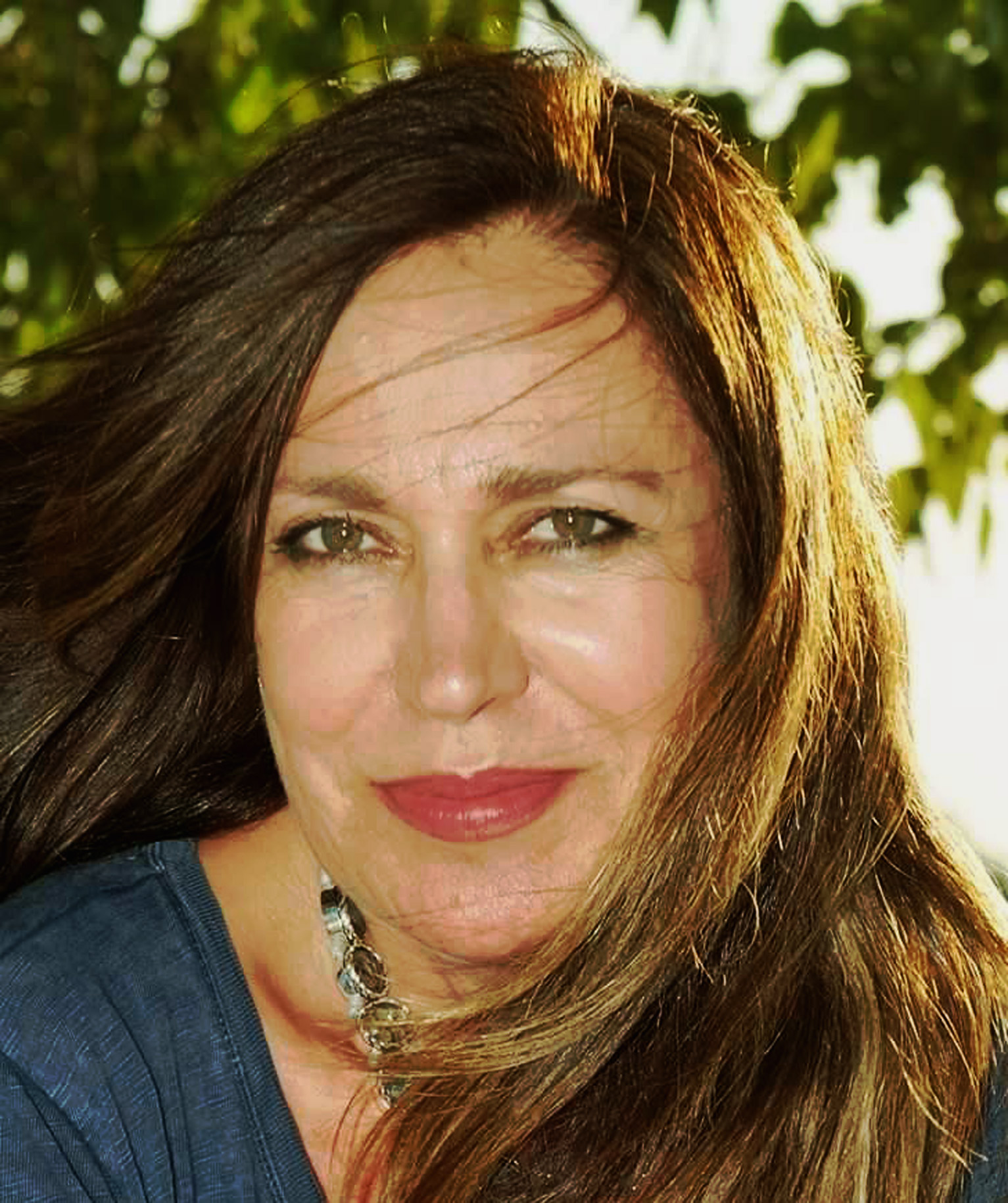 Eleni Andreou who stands out for her unique voice, has been captivating for many years her fans within the Greek American community of New York. Always active in the Greek American music scene, she gives personal concerts and also participates in numerous other cultural and musical events of the community and over the years she has established herself among the most distinct vocalists.
Her journey in Greek music began during her high school years after her first appearance at the "Lazos Boite" in Astoria, a well known venue founded in the early '80's by the legendary Greek American singer, Serafim Lazos.
Her love for Greek music and her passion to follow her dream as a singer drove her to return to Greece where she launched a singing career at the legendary Boite "Esperides" which is beautifully situated under the shadow of the Acropolis, in Plaka. Her talent and singing abililities caught the attention of several Greek composers among them, Thomas Bakalakos with whom she toured throughout Greece performing his work next to the great stars Haris Alexiou, Vasilis Papakonstantinou and Aphrodite Manou.
In the mid-80s, she returned back to New York to complete her studies in Clinical Nutrition, however she never neglected her singing passion. While in College she was also performing at the Acroama Boite with Vangelis Fampas and Julie Ziavras and later at the Microcosmos Boite with Gregoris Maninakis.
She took a short break from New York's music scene while pursuing a career in Clinincal Nutrition and resumed singing in 2013, a profession which she continues to date. In November 2018 she released her first and very well received personal album under the title, "Ekdromi" which was recorded and produced in Athens, Greece based on music and lyrics by various well-known composers and lyricists among them, Andreas Katsigiannis, Nikos Zervas, Polys Kyriacou, Vasilis Giannopoulos and others.
Eleni was selected to participate in Greek Music Journey 2020 next to Greek star Kostas Makedonas, by the concert's producer, Elena Maroulleti in recognition of her distinct talent and unique voice which will add greatly to this new one of kind concert. Eleni is volunteering her services in this benefit concert given in support of public service media AKTINA FM and AKTINA TV and both AKTINA and CYPRECO would like to thank her publicly for her generous endeavor.