GREEK MUSIC JOURNEY 2018 CONTINUES....

GREEK LEADING SINGER BABIS TSERTOS
And his band in a memorable concert tribute with Rembetika and Laika

From Tsitsanis to Theodorakis

BUY TICKETS ONLINE OR CHARGE BY PHONE 718-545-1151
WATCH BABIS TSERTOS CONCERT PROMO VIDEO
ABOUT THE CONCERT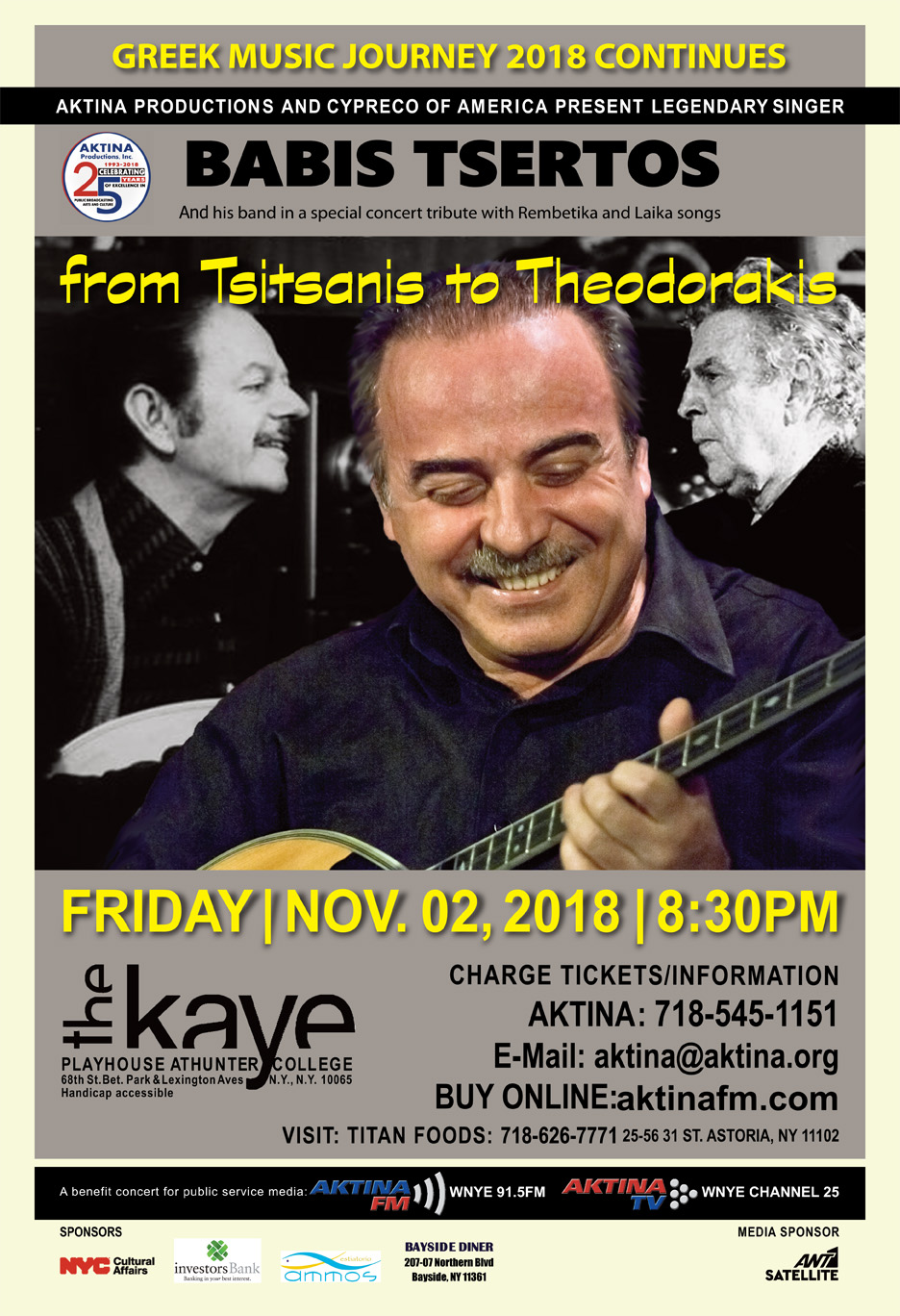 Greek leading singer Babis Tsertos, who captivated AKTINA's and CYPRECO's concert fans in Greek Music Journey 2016, during a sold out performance dedicated to the "Great Rembetika of Greece", returns to New York with his band for a new memorable performance entitled, "From Tsitsanis to Theodorakis" highlighting the everlasting rembetika (Greek blues) of legendary songwriter/composer Vasilis Tsitsanis and Laika (popular folk) of world renowned composer Mikis Theodorakis (Zorba the Greek). Join us on Friday, November 2, 2018 at 8:30pm at the Kaye Playhouse at Hunter College. The concert is co-presented by AKTINA Productions, Inc., and CYPRECO of America from the acclaimed series GREEK MUSIC JOURNEY (GMJ) and it is produced by Elena Maroulleti. Watch videos of Babis Tsertos from his last sold out performance during AKTINA's Greek Music Journey 2016. Watch the Babis Tsertos new concert video promo.
The Babis Tsertos band is comprised by some of the finest and distinguished musicians and singers including the renowned and leading folk musician Kyriakos Gkouventas, violin/baglama, the bouzouki maestro Kostas Zaridakis, Sofia Mermigka (participating singer, Original Motion Picture Soundtrack "Ouzeri Tsitsanis" 2015), kanonaki/vocals, Yiannis Tsertos, piano/accordion and Kostas Tsekouras, guitar.
PURCHASE YOUR TICKETS TODAY!
Prices: $95, $70 Orchestra | $60 Balcony | $40 Rear Balcony | $65 Wheelchair.
Charge your tickets today by calling us at 718-545-1151 or purchase online right here. A handling/processing fee applies for every ticket purchase. For cash purchases please visit TITAN Foods at 25-56 31st Street, Astoria, NY 11102. All sales are final. No exchanges/refunds. Tickets will not be sold at the theater box office. For the Kaye Playhouse Seating Chart click here.


WARNING: It is strictly prohibited for any third party to reproduce, re-use or distribute any images, logos and photos posted on this website without the written concent and approval of AKTINA Productions, Inc., and of all other third parties whose photos, images or logos are featured. All rights reserved.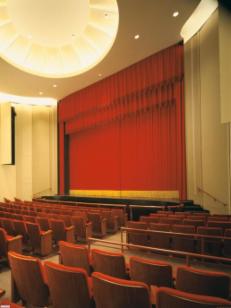 About the Kaye Playhouse: This landmark venue is one of the most cozy and beautiful theaters in Manhattan with exceptional acoustics and comfortable theatrical seating without any obstructions. Apart from the orchestra on the main level, the Kaye also features two balconies with a great view of the stage. Another unique factor of the Kaye is that it is easily accessible by all means of mass transportation.
Directions to the Kaye: By Car: The Kaye is located on the north side of East 68th Street, just west of Lexington Avenue. Parking garages are located nearby, while free street parking is also available on Lexington Avenue after 7pm. By Train: Take the "6" to the 68th Street/Hunter College station or the "F" to the 63rd Street/Lexington Avenue station. By Bus: Take the M98, M101, M102, M103 or the Crosstown M66 to East 68th Street and Lexington Avenue. The Kay is handicap-accessible.

Briefly about the artist: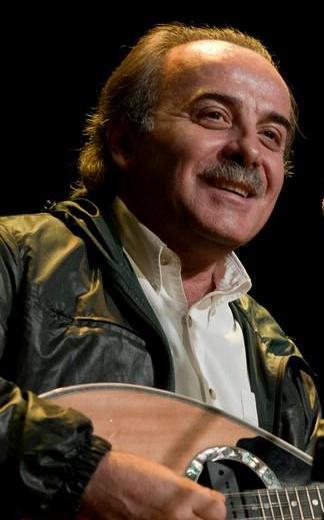 Babis Tsertos, who comes from a family of musicians, is among the most distinguished and renowned folk singers of the rembetika (Greek blues) for almost four decades. He officially launched his career as a professional singer in 1980 and soon after he accelerated very successfully becoming one of the most representative rembetika singers of Greece with ongoing performances and amazing collaborations. Most notably he has collaborated with renowned and legendary singers of the early generation of the rembetika including the great singers Soteria Bellou, Takis Binis, Anna Chrysafi, Keti Grey, Kostas Kaplanis, Koulis Skarpelis and others. In later years he also worked with other great singers of the later generation of the rembetika such as, Babis Goles, Giorgos Xindaris, Stelios Vamvakaris, Agathonas Iacovidis, Vicky Moscholiou, including the renowned traditional folk musician Chronis Aidonis among many others.
In 2002 he won the award for "best authentic singer" of the rembetika at the "Corfu Awards" and in 2003, the award for "best folk album" for "Anaglifa Mias Tehnis Tapinis" during the "Arion Awards. He has also collaborated with the folk music group Estoudiantina Neas Ionias, a group which performs and records rembetika and traditional folk songs from Smyrna and has participated as "guest artist" in their album "Smyrne" released in 2003. The album won the award "best traditional album" during the Arion Awards in Greece.
Babis Tsertos has released 13 personal albums (among them two collectible series) and has participated as a guest artist in some 35 other albums. He has also released four exclusive collectible series of albums with rembetika entitled, "Rembetiki Tetras" (The Foursome of the Rembetika) with three other renowned singers.
Presently, Babis Tsertos is considered among the very few remaining Greek rembetika singers and musicians of his generation who continues to serve with distinction and pride this unique music genre which comprises the most representative aspect of Greek music and which is the basis of the Greek popular folk song (the Laika) which evolved later.
The upcoming performance of Babis Tsertos and his band at the Kaye Playhouse at Hunter College is not to be missed!
This is benefit concert is co-presented by AKTINA Productions, Inc., and CYPRECO Of America, Inc., in support of public service media AKTINA FM-WNYE 91.5FM and AKTINA TV-WNYE Ch. 25. For more information email This email address is being protected from spambots. You need JavaScript enabled to view it.. This concert is made possible in part by The New York City Department of Cultural Affairs, Investors Bank, Ammos Estiatorio and Bayside Diner. Media Sponsor, ANT1 Satellite (U.S).