GREEK MUSIC JOURNEY 2017

WITH GREEK LEADING STAR YANNIS KOTSIRAS!
CONCERT SOLD OUT!!!
WE THANK YOU ALL FOR SECURING YOUR SEATS EARLY



ABOUT THE CONCERT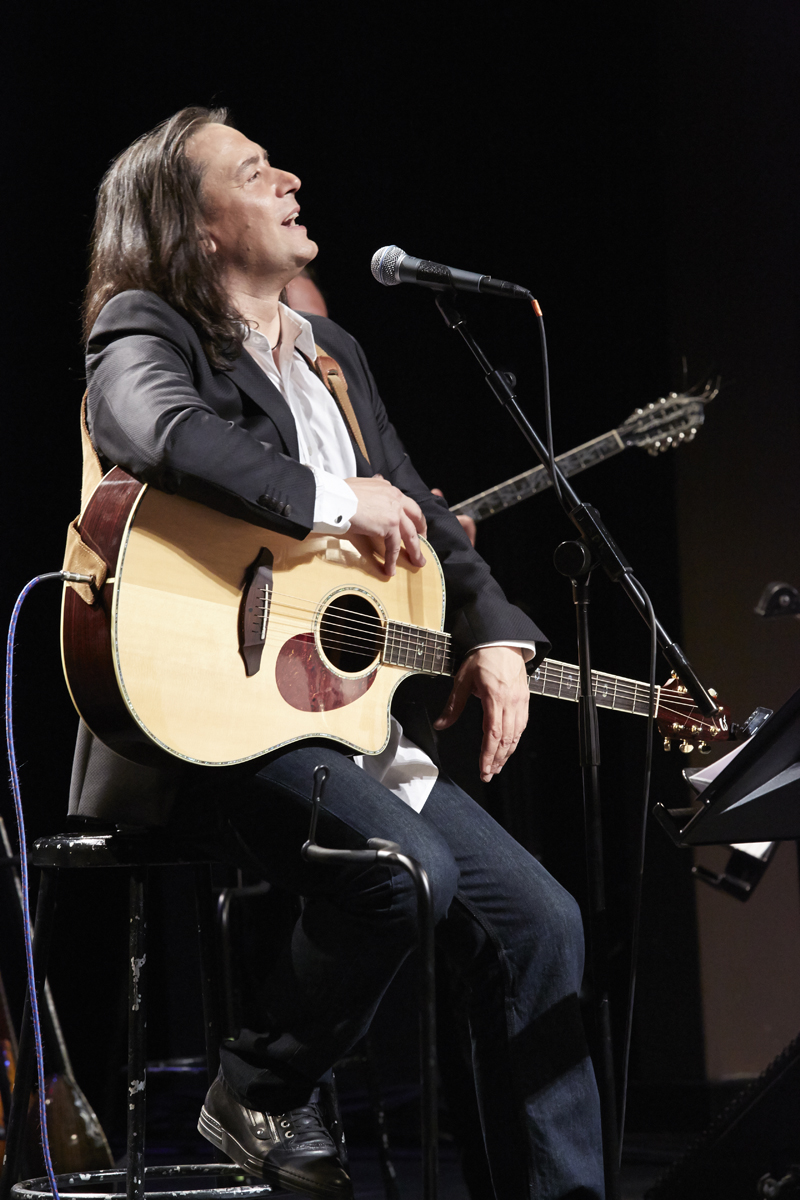 Greek leading star Yannis Kotsiras who made his debut personal performance in the U.S., during AKTINA's GREEK MUSIC JOURNEY in April of 2015 and who captivated the audience during a sold-out performance, returns to New York by popular demand for yet another memorable performance presented by AKTINA Productions, Inc., from the acclaimed concert series, GREEK MUSIC JOURNEY (GMJ), produced by Elena Maroulleti. The concert, already SOLD OUT, is hosted at New York's landmark theater, The Kaye Playhouse at Hunter College on E. 68th Street, between Park and Lexington Avenues in Manhattan. Yannis Kotsiras is accompanied by his band featuring the distinguished soloists, Akis Katsoupakis, piano, Vangelis Machairas, bouzouki, tzoura, Kostas Michalos, guitars/vocals, Yiannis Grypaios, bass and Nektarios Gavalas, drums.
This benefit concert for public service media AKTINA FM-WNYE 91.5FM and AKTINA TV-WNYE Channel 25, promises another magical evening at the Kaye with Yannis Kotsiras who returns with a new and remarkable program featuring songs from his distinct and rich personal discography highlighting also songs from his latest hit album "Pseftis Keros" (Lying Time) released in the fall of 2016.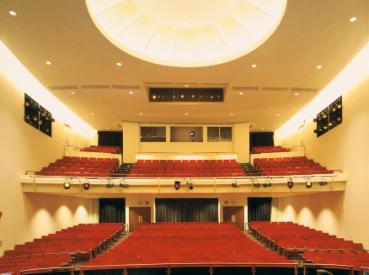 About the Kaye Playhouse: This landmark venue is one of the most cozy and beautiful theaters in Manhattan with exceptional acoustics and comfortable theatrical seating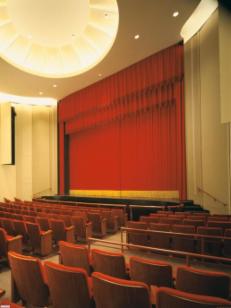 without any obstructions. Apart from the orchestra on the main level, the Kaye also features two balconies with a great view of the stage. Another unique factor of the Kaye is that it is easily accessible by all means of mass transportation. The Kaye is handicap-accessible.

Directions to the Kaye: By Car: The Kaye is located on the north side of East 68th Street, just west of Lexington Avenue. Parking garages are located nearby, while free street parking is also available on Lexington Avenue after 7pm. By Train: Take the "6" to the 68th Street/Hunter College station or the "F" to the 63rd Street/Lexington Avenue station. By Bus: Take the M98, M101, M102, M103 or the Crosstown M66 to East 68th Street and Lexington Avenue.



This benefit concert is made possible in part by Arch Capital Group (U.S), Investors Bank, Ammos Estiatorio in Manhattan, Bayside Diner in Queens and Madison Restaurant in Manhattan. Media Sponsors, Antenna Satellite U.S., and the weekly Greek American newspaper "I Efemerida Tis Neas Yorkis".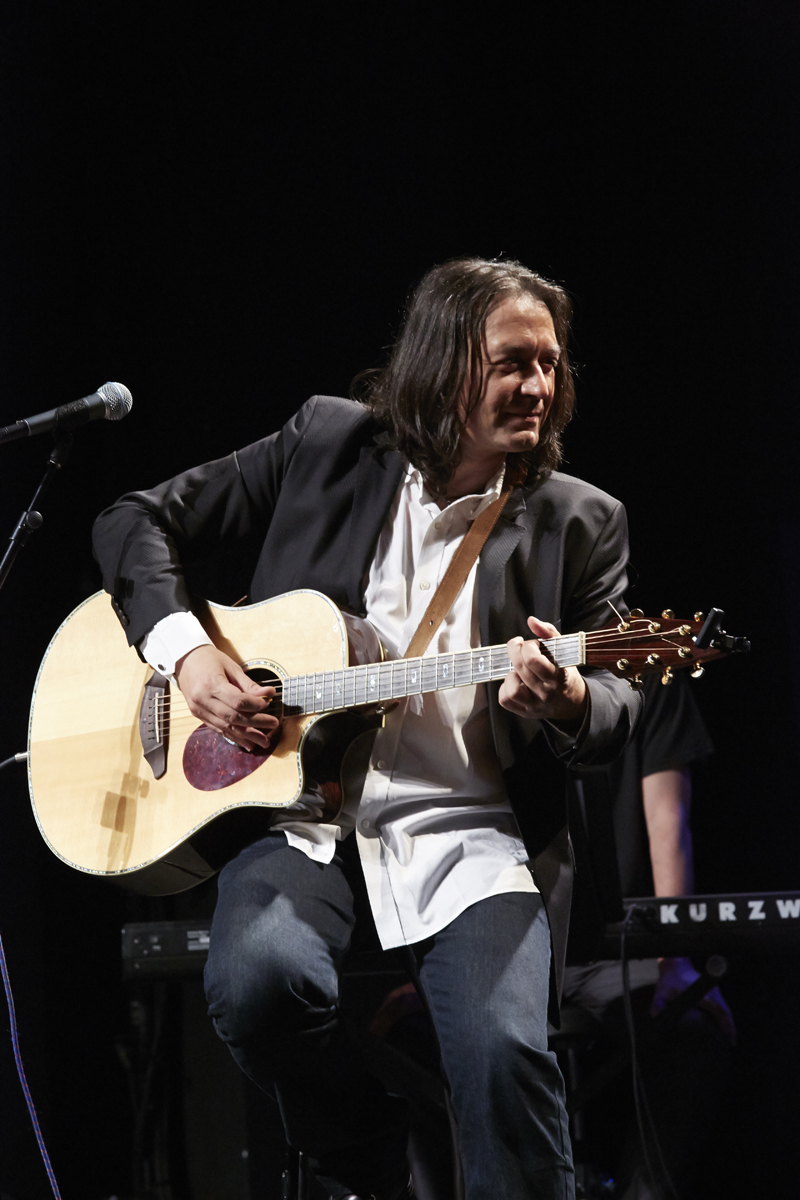 Briefly about the artist: Yannis Kotsiras is a world renowned Greek recording artist with an amazing career spanning almost three decades and which is crowned with several "platinum" and "gold" records, exceptional collaborations with leading and legendary Greek composers, lyricists and singers and with thousands of fans worldwide. He is a singer, songwriter and a musician and his main instrument is the guitar that accompanies him in all of his performances.
Over the years, Kotsiras has worked with almost all important and representative artists of the Greek music repertoire, including the legendary composers Mikis Theodorakis, Mimis Plessas, Thanos Mikroutsikos, Lavrentis Machairitsas, Nikos Antypas, Dimitris Papademetriou among many others, as well as with almost other Greek singing stars such as, Haris Alexiou, the late legends Dimitris Mitropanos and Grigoris Bithikotsis and many others.
On April 17, 2015 Kotsiras made his debut personal performance in the U.S., at the invitation of AKTINA Productions, Inc., and performed in support the organization's non-profit and public service media outlets AKTINA FM and AKTINA TV. The sold-out performance which was presented at the Kaye Playhouse at Hunter College received raving reviews from the press and the audience and was termed as "one of the best ever concerts presented in New York". Read more about AKTINA's GMJ 2015 featuring Yannis Kotsiras and watch our amazing videos from that performance.
He launched his professional career in 1990 singing "Rembetika" (Greek folk blues) and "Laika" (popular-folk) and immediately he was able to gain wide recognition among the public as well as among the artistic circles of Greek music, as an "exceptional singer and musician" who possesses the necessary talent to perform these unique and representative music genres.
Yannis Kotsiras distinguishes himself as an artist who appeals to wide audiences (Greek and non-Greek) of all ages with thousands of fans around the world who enjoy his music and faithfully follow his career over the years. This great achievement is owed to his distinct voice, his amazing talent and his commitment to always serve the representative aspects of Greek music. Thus, it is no coincidence that all of his personal albums, as well as his collaborations in other albums as a "guest star" have written their own "unique" history in the Greek music repertoire. Among his most celebrated recordings of traditional folk songs which stand out as exceptional examples include, his 2003 collaboration in the album "Aegean" featuring folk songs from the Greek islands of the Aegean and his 2012 album "Smyrne of Love" accompanied by Estoudiantina Neas Ionias which features Greek folk songs from Asia Minor. Both recordings fully adhere to the folk element of the music without any modern influences and both are performed with the representative traditional folk music instruments.
Of much acclaim were his two different concerts given in 2001 dedicated to the world renowned masterpiece works of Mikis Theodorakis "Pnevmatiko Emvatirio" (Spiritual March) based on poetry by Angelos Sikelianos and "Axion Esti" based on poetry by Odysseas Elytis. He is the fifth and youngest singer to ever perform as a soloist "Axion Esti", one of the most difficult and at the same time most celebrated works of Mikis Theodorakis worldwide. His live performance of the "Axion Esti" at The Herodion was recorded and released on a double CD in December 2001. In 2002 he presented four more world renowned works by Mikis Theodorakis, the "Epitaphios" (Epitaph) and "Romiosini" accompanied by Greek leading singer Tania Tsanaklidou and the Presidential Symphony of Russia. This concert which took place in Cyprus in April 2002 was repeated in June 2002 in Moscow. And in July 2002 the works "O Ilios Ke O Chronos" (The Sun and The Time) and "Arcadia VIII at the ancient theater of Herodion below the Acropolis in Athens. Of further acclaim was his collaboration with yet another legendary composer of Greece, the renowned Mimis Plessas. In November 2002 he gave a concert and presented at the "Megaron Mousikis" in Athens the distinguished work "O Dromos" composed by Mimis Plessas based on lyrics by Lefteris Papadopoulos, another legendary songwriter of Greece. The concert was released on CD in March 2006.
In October 2003 he was honored with the "Best Selling Greek Artist" award within the framework of the World Music Awards held every year in Monaco, a prize covering two years of top sales (2002 and 2003). In 2004 he was selected by the Athens Olympic Committee to record in Greek and in English the song "Pass the Flame" which was the theme song for "Athens Torch Relay" and which was released on a CD single worldwide. The song written by the internationally acclaimed composer Trevor Horn in collaboration with Lol Crème. The backup choir in the song is made up by famous singers from around the world reflecting the global spirit of the torch relay. The Greek lyrics of the song were written by Lina Nikolakopoulou. He also participated in the two other albums released on the occasion of the Athens 2004 Olympics, "Fos" based on songs by Mikis Theodorakis and "Unity" by various other leading composers. Both albums were released in August 2004. In March 2005 Yannis Kotsiras collaborated with yet another legendary Greek composer, Thanos Mikroutsikos and performed the latter's much acclaimed works "Stavros Tou Notou" and "Grammes Ton Orizonton" based on the poetry of Nikos Kavadias. The work was presented during a series of six concerts at the "Megaron Mousikis" in Athens. The concert was released on CD in October 2005 with overwhelming sales receiving the "golden" certification. In 2014, he collaborated again with Thanos Mikroutsikos who wrote the music for his successful album "Oti Thymase Den Pethenei" based on lyrics by Odysseas Ioannou.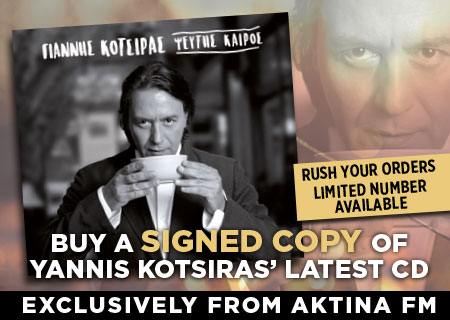 In the Fall of 2016 Kotsiras released his album "Pseftis Keros" (Lying Time). The album became an instant hit following its release further verifying the great impact of Yannis Kotsiras in Greek music.
Purchase today a signed copy of the latest Yannis Kotsiras hit album "Pseftis Keros" exclusively available by AKTINA by calling us at 718-545-1151.
The upcoming April 21st performance with Yannis Kotsiras and his band at the Kaye Playhouse at Hunter College is not to be missed! Buy tickets online, or charge by phone by calling us at 718-545-1151.

This concert is made possible in part by Arch Capital Group (U.S), Ammos Estiatorio, Bayside Diner, Madison and Loi Restaurants. Media Sponsors: ANT1 Satellite and the Greek weekly "I Efimerida Tis Neas Yorkis".
Photos above by: Anastassios Mentis. From AKTINA's Greek Music Journey 2015